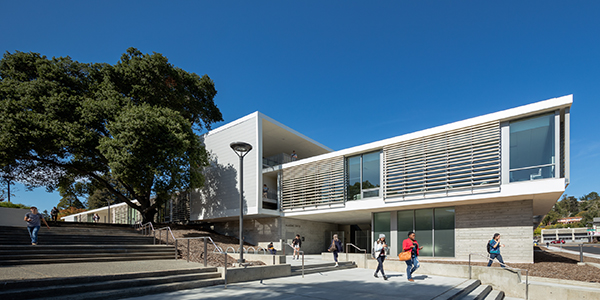 Please contact us to arrange a tour of the Kentfield Campus or Indian Valley Campus, and let us know your specific areas of interest. Tours run about an hour in length and will introduce you to the campus and give you an insider's view of our programs, support services, campus life, and the beautiful surrounding area. You will learn about important information and insights that you won't find in a brochure; instead, you will meet actual students who can share their impressions and perspectives. We would ask that you suggest several days and times, at least a week out, to allow time to coordinate with the Student Ambassadors.
Become an Ambassador
The Student Ambassador Program is a critical part of the Outreach Department. This program is geared for currently enrolled full-time students, carrying 12 units or more, who are enthusiastic about their experience at the College of Marin and who are willing to work with young people and others in the community to orient them to the College and its many opportunities.
Our Ambassadors provide an authentic student voice and perspective in every aspect of their work with local schools and community-based organizations as well as support other Student Services offices and continuing students, as needed, especially during peak registration periods.
Student Ambassadors will:
Get students (especially under-represented, first-generation college) excited about coming to College of Marin through workshops/presentations and by sharing first-hand experiences
Assist students with Student Success steps including pre-orientation sessions, online application to the College, signing up for placement testing including tips for test prep, making a Counseling appointment to develop a Student Educational Plan, Orientation, and enrolling in classes, as well as providing financial aid support
Lead campus tours to showcase programs and support services
Provide ongoing navigational support to continuing students at the window and through College activities, e.g., Road to Success, Welcome Week, Job Fair, Transfer Day, etc.
Represent the College of Marin and promote diversity among our student population at local schools, community organizations and non-profits at college fairs, events, parent meetings, panels,  workshops, and on campus
Take on a personal project based on interests/skills that will add value to Outreach work and your personal educational goals, e.g., improving public transportation, developing a virtual tour for Outreach webpage, writing curriculum for K-8 presentations, etc.
Click here to download the student ambassador job description.