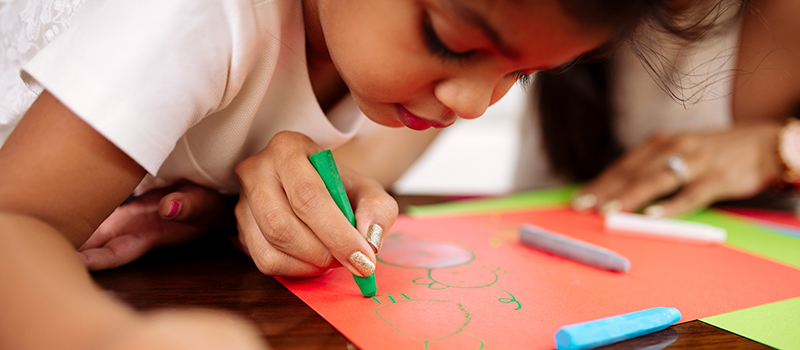 The College of Marin Child Development Centers is California State Preschool Programs that provide part and full day preschool on both the Kentfield and Indian Valley campuses.  Placement in our program is available for children of COM students, employees and we welcome families from our local community. Children must be three years of age by December 1st of the academic year to be eligible for enrollment.  Please complete a Preliminary Application if you are interested in a tour or learning more about our program.
Lower income student families may apply for state-subsidized funds, however, children receiving state funding must have children who will be three years of age by September 1st of the current academic year.
In accordance with Federal law and U.S. Department of Agriculture policy, this institution is prohibited from discriminating on the basis of race, color, national origin, sex, age, or disability.
College of Marin Student Eligibility
At least one parent must be a College of Marin student.  Priority for subsidized child care goes to the lowest income student families. 
Student parents must be enrolled in classes that lead to a vocational or educational goal and must make academic progress every semester to continue to be eligible for child care services. 
Students enrolled in credit classes must be enrolled in at least 6 units.
Students enrolled in noncredit ESL classes must be enrolled at least 9 hours per week.
Admission Priorities
The COM Children's Centers are funded primarily through the California Department of Education, Child Development Division. The State mandates that children be admitted to the program according to the guidelines below.
1st Priority
Children receiving child protective services, (or having written referral from legal, medical, or social service agency as a result of child abuse, neglect, or risk).
2nd Priority
Lowest family income (if there is a waiting list, families with the same income will be ranked according to the date of the preliminary application).
3rd Priority
College of Marin students not already in Priorities 1 or 2.
4th Priority
Full cost families are welcome as space allows, in order of application.
The College of Marin Children's Centers welcome all children and do not discriminate in determining which children are served based on sex, sexual orientation, gender, ethnic group identification, race, ancestry, national origin, religion, color, or mental or physical disability in determining which children are served.
Eligibility for State Subsidized Care
State subsidized care is availability to children whose parents are currently College of Marin Students.  The cost of childcare to parents depends on family income. The Children's Centers Administrative Staff has current State income guidelines used to determine appropriate fees.
Families are eligible for financial subsidies if they meet any of the following criteria:
They are receiving public assistance.
The family income is less than 75% of the State median income.
The family is homeless.
There is a written referral from a legal, medical or social service agency for a child at risk of abuse or neglect.
All subsidized families must document a need for childcare, and the hours needed must match the hours that the child is registered and in attendance at the Center. Childcare need may include:
Vocational Training
Parent must be taking classes with a vocational goal and demonstrated progression toward that goal. Class attendance and study time can be counted for a maximum of 6.5 hours of childcare per day. If classes are continuously dropped, and the parent is not progressing toward a goal, childcare may be terminated.
Employment
A statement of wages and a written verification from the employer will be required.
Seeking Employment
Parent must submit a tracking form to verify the parent is seeking employment. The maximum childcare hours are 6.5 per day, for a maximum of 60 days per year.
Homelessness and Seeking Permanent Housing
Parent must have a written referral from a shelter, legal, medical, or social service agency.
Parental Incapacity
Parent incapacity must be determined by a legally qualified professional (with name, address, phone number, and signature) declaring the type of incapacity, which includes a probable duration of incapacity, a statement verifying parents' inability to care for a child and hours of childcare needed.
Eligibility and fees are determined separately for each household in which a child resides.