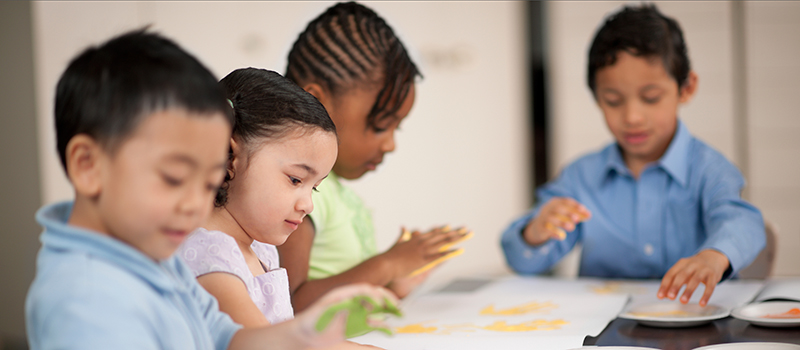 The College of Marin Child Development Program provides high-quality early education for preschool age children. 
Children's centers are located on the Kentfield and Indian Valley campuses. The programs provide an enriching preschool environment during fall and spring semesters.  
The Child Development Programs serve as demonstration classrooms that annually provide child observation, research and practicum opportunities, student teacher training, and Work Study jobs for more than 500 College of Marin students who are taking courses in Early Childhood Education, Pediatric Nursing, Child Psychology/Human Development, Behavioral Science, and related fields.
Our Goals
To provide a high-quality early education experience for all children and families.

To create an environment where children feel safe, respected, and cared for.

To offer a rich learning environment that encourages children's natural curiosity and supports them to take risks that lead to new skill development.

To support children and families while parents achieve their vocational goals.

To be a model program where college students learn effective teaching strategies, observation skills,

and

reflective practices.
Our Philosophy
The College of Marin Children's Center is committed to providing an early education model of excellence for children, their families, and the greater community. The program is run by a group of highly skilled, well-trained professionals who understand the developmental needs of young children. The goal of the curriculum is to support children's inquiry and provide many concrete experiences that will help children build skills in all areas of development: language, social, emotional, cognitive and physical. A balanced routine of structured and unstructured exploration time is designed to meet the varying needs of all children. All children can reach their maximum potential when they are given time and support to learn about themselves and the world around them.
Upcoming Events
Family Math Nights
The Marin County Office of Education is hosting "Family Math Nights" for parents and caregivers of children, ages birth to 6 years. The virtual sessions are facilitated by Lisa Kaplan Shaanan from Early Education Equity. Spanish translation provided. The Zoom link will be emailed to you the day before the session.
Please join us on one or more of the following sessions on Thursdays from 6:30-7:30 pm. Registration Link
February 9
March 9
April 13
May 11
June 8
---
CDP & ECE Bake Sale
The Child Development Program and Early Childhood Education department at College of Marin will be hosting a Spring bake sale on Wednesday, March 8th from 11:30 am- 1:30 pm in the PV quad of the Kentfield campus. Join us for some delicious treats! All proceeds will be donated to the child development program. Cash and Venmo will be accepted. For questions or more information, please email Chelsey Perez, PAC President at clperez@marin.edu. 
---
Baseball Kids Day
Show up for game day! College of Marin Athletics in collaboration with Community Action Marin bring Baseball Kids Day on Saturday, February 25th at the College of Marin campus baseball stadium (700 College Ave. Kentfield CA, 94904). There will be pre/ post game activities that include games on Futsal field and running the bases. Take a dugout tour and greet the players! Free food will be provided by COM Police. Activities start at 11 am.